A lovely little blog on the production of the film. 🥰
Update: Dec 1, 2022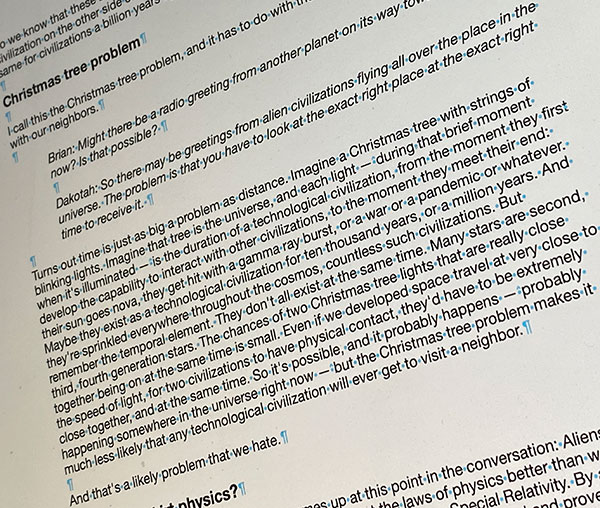 Writing, writing, writing, and writing. Can I keep it to 15,000 words???
We're deep in the writing stages now. Did you think that came first?
For a doc like this, which includes a lot of interviews, you start with a pretty detailed outline. Then you shoot all the interviews. Then you get those transcribed, and then you pick out all the parts that you're going to use.
Then comes the stage where I am now: writing "around" all that interview dialog. You want the whole thing to come together into a seamless, cohesive presentation.
The very last task in the production phase is shooting me. I'm going to narrate the whole thing through, beginning to end, following that script. So it has to be done last of all. A couple weeks ago, I decided to change the location for that. It's going to cost a bit more money, and it's going to cause 3-4 people to freeze our asses off for about 6 hours, but it will be worth it.
Trust me on that one.
Update: Nov 21, 2022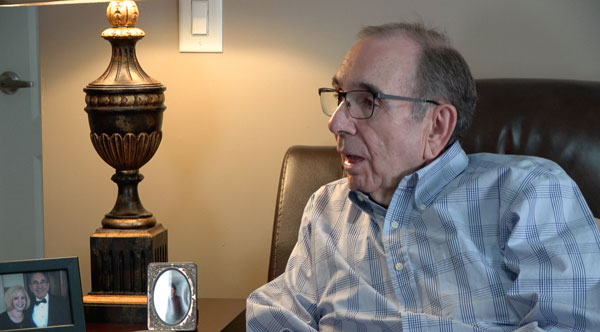 Retired Georgia Tech professor Jere Justus is the one who convincingly solved Jimmy Carter's UFO sighting.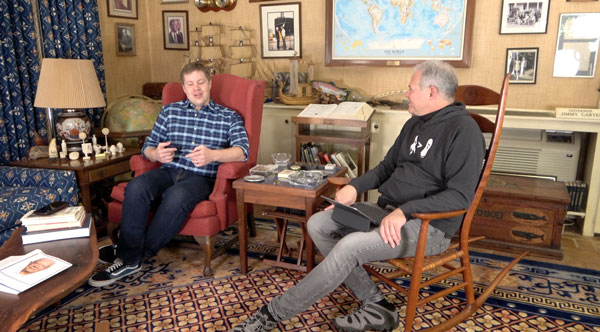 Me with Josh Carter at the Carter home in Georgia, talking about the President's UFO story.
Recent coast-to-coast-to-coast-to-coast shooting trips have resulted in a bad case of jetlag and some tremendously successful shoots.
Of note was telling the story of President Jimmy Carter's 1969 UFO, and how it was solved by a Georgia Tech professor. First I interviewed retired professor Jere Justus, who used to work with the Air Force when he was an undergrad, launching rockets to perform atmospheric experiments. Then I went to the home of Jimmy & Rosalynn Carter in Plains, GA to interview their grandson, Josh Carter, who told the story of his grandfather's UFO sighting and how it ultimately was solved.
Great guys, a great story, and will make a truly memorable sequence in the movie.
Three more shoots to go!
Update: Oct 31, 2022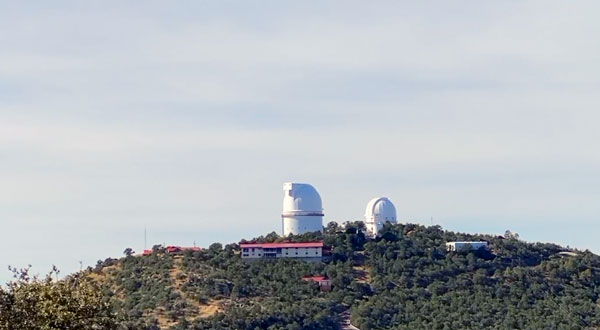 The McDonald Observatory in Texas.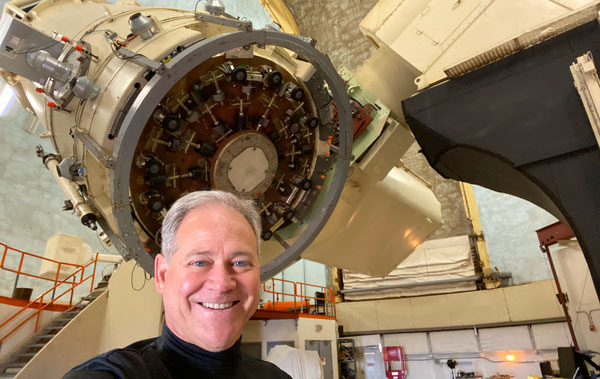 Me, inside the dome with the Harlan J. Smith telescope.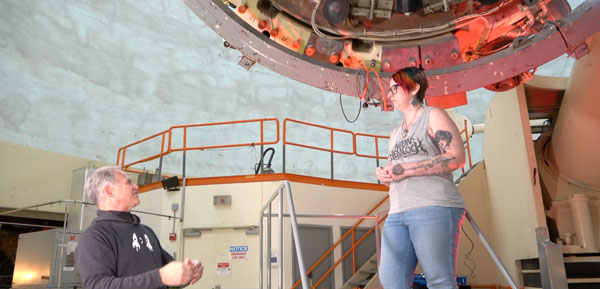 Interviewing Dr. Kaitlin Rasmussen about the universe's deepest secrets.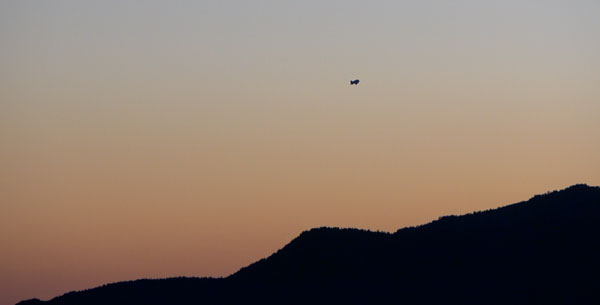 Our very own UFO... can you guess what it is? It did not move from that exact position.
Just completed a shoot in Texas, at the McDonald Observatory operated by the University of Texas at Austin. The filming permit for this was one of the big-ticket items, but having a topnotch location like this is worth it.
We shot inside the 107" Harlan J. Smith telescope.
I was here to interview a couple of astrophysicists about some of the big questions for the film: Is there intelligent life out there? And if so, can they ever visit us?
Both questions are full of even more questions. They're also full of topics ripe for philosophers to debate, but I'm glad I don't go there. Philosophy is a subject for other filmmakers to tackle.
We did have some trouble — perhaps due to an entity the astronomers have dubbed the Toilet Ghost. Whether it's real or not, its effect sure seemed to be. I was more than a little anxious when reviewing all the footage, but luckily all of it escaped the ghost's influence.
In keeping with the theme, we had an actual UFO of our own just outside the observatory. See the photo attached here. For a full explanation of what it turned out to be, see our Facebook page.
On to Atlanta next.
Update: Oct 17, 2022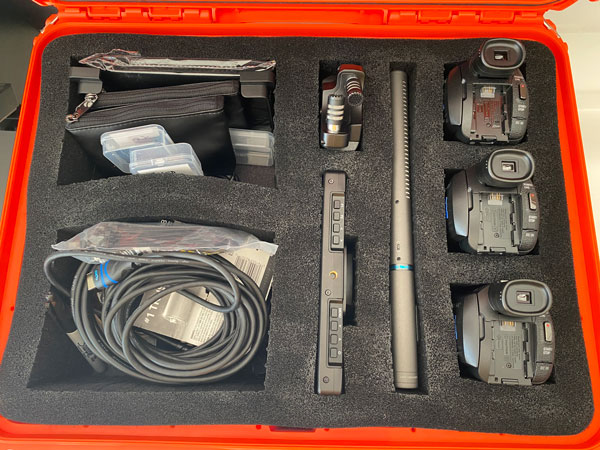 This is the AV case, with everything needed for recording audio and video. Yes, it is a reduced subset for sure!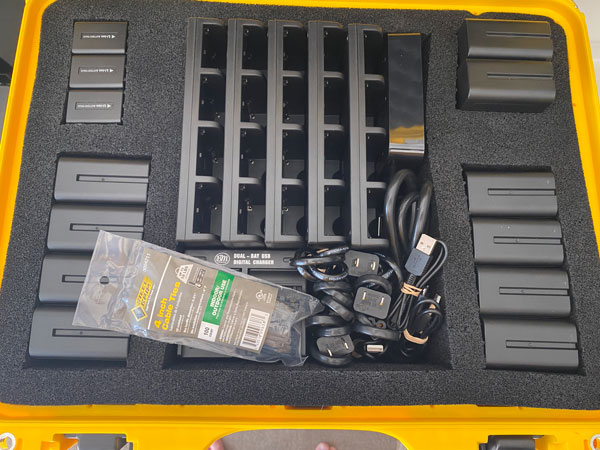 The battery case, the heavy yellow behemoth I have to carry through airports.
Today I thought I'd share with you what I take on the road for these shooting excursions. Actually, I'm only sharing a bit less than half of it. The two biggest cases (lights and stands/tripods) are not shown.
Since this is such a small budget film, and as I'm doing most of the shooting myself, I needed to create the smallest, handiest, most portable kit I could come up with. I've got it down to five cases including my personal suitcase, which is needed because it contains the foldable luggage cart I need to lug all five through airports and to rental car terminals.
Checking all these is not a problem (airlines have a special reduced rate for media equipment), but the special yellow one -- packed with lithium-ion batteries -- can't go in a cargo hold, so I have to take it in the plane with me as my carry-on. It's the heaviest one, and it's less than delightful to schlep down a long airport corridor. Roller equipment cases are generally too big to fit in an overhead.
The AV case contains:
Three 4K cameras
7" monitor w/sunshade
Shotgun microphone
Digital audio recorder
2 sets of lav mics with recorders
All the memory chips for audio & video
A bunch of cords, batterys, rolls of tape, rubber bands, velcro, and random miscellaneous stuff that you always end up needing
The battery case contains:
6 big camera batteries, enough to last two half-day sessions
20 big batteries for all the different LED lights I bring. That's also enough for two half-day sessions without recharging
Charging gear all of the above, which is how I spend my nights in the hotels
Zip ties, so the TSA guys can seal it back up again after they cut my zip ties off to inspect it
This week I'll be heading to Las Vegas for CSICon where, unusually, I will not be filming anything -- which makes it my break week from the production. Next stop: the McDonald Observatory in Texas.
So other than that, it's lots of writing, more writing, transcribing, and moving stuff around to craft a compelling narrative.
Update: Oct 6, 2022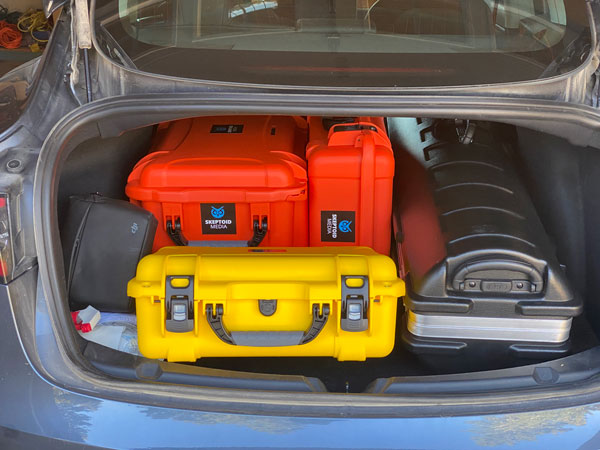 Luckily I got to do most of this first half by driving... a lot easier than flying with all these cases.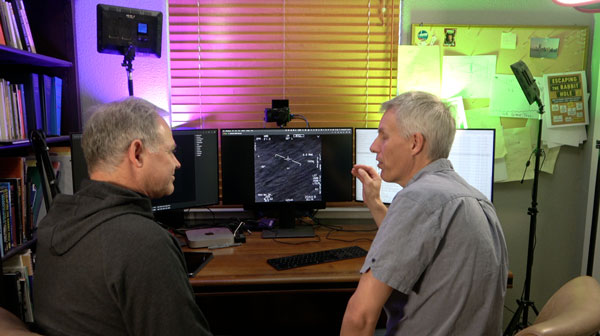 Mick West explains the US Navy UFO videos.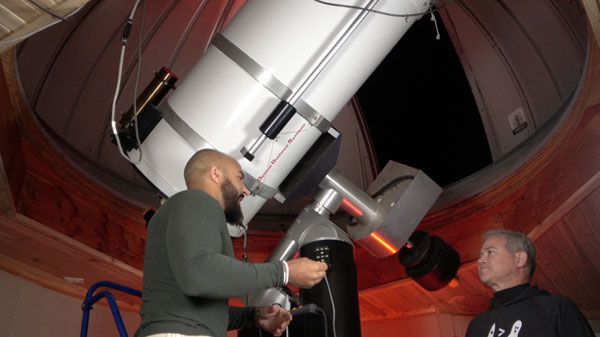 Astrophysicist Dakotah Tyler reveals the secrets of the universe.
I'm just about at the halfway point of shooting on the road. I've now completed location shooting at:
Washington, DC
Folsom, CA
Rancho Cordova, CA
Sunriver, OR
Next on the schedule is:
Fort Davis, TX
Plains, GA
Woodstock, GA
Madras, OR
Once all that is done, then the final shooting will be completed here in Bend, OR with a single set piece (will sort of be like a "headquarters" for the documentary presentation), with some fun aerial stuff up in the local mountains. Then it's off to the editing room; then to color & sound; and finally to scoring. Still looking at a completion date right around the end of the year, if all continues to go well.
If you are a podcast listener, you might want to catch this episode of This American Life. In the final third of the episode, host Ira Glass watches the Congressional hearings on UFOs with analyst Mick West over Zoom. I got a kick out of it, because they covered exactly the same ground I did when I shot Mick last week in California. Yes, this movie is coming at a good time.