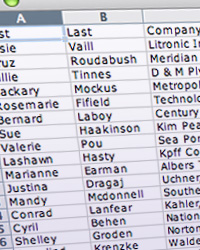 Always test your software with a "worst-case scenario" amount of sample data, to get an accurate sense of its performance in the real world.
These data files are of super high quality. See the description at the right. Included fields are:
First Name
Last Name
Company
Address
City
County (where applicable)
State/Province (where applicable)
ZIP/Postal Code
Phone 1
Phone 2
Email
Web
All files are provided as CSV (comma-delimited).
Names are random, constructed from real first and last names. Company names are real, but are randomized along with street addresses and do not represent actual locations.
City, County, State/Province, and ZIP/Postal are correct for each record.
Phone and fax numbers are random, but the area code and exchange for each are correct for their location.
Email and Web addresses are fake but properly formatted for their country.
Records are in random order and cover the countries with a more or less even distribution.
Import-ready CSV files, no weird characters, escaped characters, or anything else funky to screw things up.