Books neom.com | Compare Prices
Ralph Nusser, Sogetes Computer-Services
http://www.sogetes.com
Scan the EAN code and look up who is the price leader
Description:
/*
SYNTAX:
_EAN_Lookup upc.neom.com ( pEAN )

AUTHOR:
Ralph Nusser, 2009, June 19th

DESCRIPTION:
Lookup product information at upc.neom.com

EXAMPLE:
http://upc.neom.com/products/9780470429006

TIP:
For the iPhone download the free NeoReader with barcode recognition for EAN-13 codes.

*/
Let ([

a = "http://upc.neom.com/products/";
b = pEAN;
$url = a & b

];

$url

)
Note: these examples are not guaranteed or supported by BrianDunning.com. Please contact the individual developer with any questions or problems.
digg this page | del.icio.us this page
Newest Web Viewer Examples:

Instant Messaging for your FileMaker Pro network. Click here.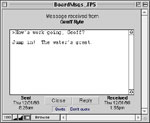 Web Viewer Example Authors:
Link to all of your own Web Viewer Examples on this site with the following URL:
http://www.briandunning.com/filemaker-web-viewer/results.php?author=Your Name Here