BARCODE QR Code
Ralph Nusser, Sogetes Computer-Services
http://www.sogetes.com
QR Code of first stanza of hymn
Description:
/*
SYNTAX:
_Barcode_QR ( myText ; pSize ; pEncoding )

AUTHOR:
Ralph Nusser, September 18th, 2008

EXAMPLE (first stanza of hymn "Ein feste Burg..." [http://de.wikipedia.org/wiki/Ein_feste_Burg_ist_unser_Gott]:
http://chart.apis.google.com/chart?chs=400x400&cht=qr&chl=<Ein feste Burg ist unser Gott, ein gute Wehr und Waffen.
Er hilft uns frei aus aller Not, die uns jetzt hat betroffen.
Der altböse Feind, mit Ernst er's jetzt meint;
groß Macht und viel List sein grausam Rüstung ist,
auf Erd ist nicht seinsgleichen.>&choe=<UTF-8>

where:

* <text to encode> is text for the QR code. This must be url-encoded in UTF8. Note the space between hello and world is written as %20 in the following example.
* <output encoding> optionally specifies how the output is encoded. If this is not specified the default of UTF-8 is used. Available options are: Shift_JIS, UTF-8, or ISO-8859-1.
http://chart.apis.google.com/chart?chs=250x100&chd=t:60,40&cht=p3&chl=Hello|World

EXPLANATION:
http://en.wikipedia.org/wiki/QR_Code

*/
Let ([
a = "http://chart.apis.google.com/chart?chs=";
b = pSize;
c = "x" & b & "&cht=";
d = "qr&";
e = "chl=";
f = GetAsURLEncoded ( "<" & pText & ">") & "&";
g = "choe=%3C";
h = pEncoding & "%3E"
];

a & b & c & d & e & f & g & h

)
Note: these examples are not guaranteed or supported by BrianDunning.com. Please contact the individual developer with any questions or problems.
digg this page | del.icio.us this page
Newest Web Viewer Examples:

Bar codes for your FileMaker solution: No special fonts, no plug-ins. Click here.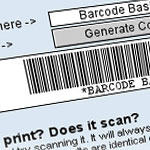 Web Viewer Example Authors:
Link to all of your own Web Viewer Examples on this site with the following URL:
http://www.briandunning.com/filemaker-web-viewer/results.php?author=Your Name Here