Zip Codes By Radius
Gustav Hobel, Purple Phaze Productions
none
Basis for a list of ZIP codes within a specified radius
Description:
Final result is a list of ZIP codes within the specified radius of the ZIP code entered.
The free webservice at teachatechie.com returns the ZIP codes in the specified radius (miles) and includes the distance for each found code. The calculation GetLayoutObjectAttribute ( <object name of web portal> ; "content" ) returns the result in XML. The custom function ExtractData ( XML; Attribute; Instance ), submitted by Andy Knasinski, NRG Software to this forum, helped to extract the ZIP codes from the XML code. This solution requires a script to build the list. The result can act as a primary key to find address records with matching ZIP codes over a relationship.
Note: these examples are not guaranteed or supported by BrianDunning.com. Please contact the individual developer with any questions or problems.
digg this page | del.icio.us this page
Newest Web Viewer Examples:

Download the entire US zip code database with latitude and longitude. Click here.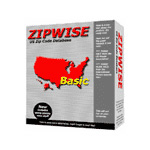 Web Viewer Example Authors:
Link to all of your own Web Viewer Examples on this site with the following URL:
http://www.briandunning.com/filemaker-web-viewer/results.php?author=Your Name Here