Mortgage Calculator
Ari M. Weinstein, Ari M. Weinstein Design & Consulting
http://www.ariw.com
An example of a mortgage calculator using YourMortgageCalculator.com
Description:
This is a straightforward example. Go to YourMortgageCalculator.com and enter some data to model a loan. Note the URL of the resulting page. Each required parameter is clearly readable here. The checkbox for "explain calculations" is the last string, "&show_progress=1" - omit all of that if you don't need to see an amortization table.
Note: these examples are not guaranteed or supported by BrianDunning.com. Please contact the individual developer with any questions or problems.
digg this page | del.icio.us this page
Newest Web Viewer Examples:

Instant Messaging for your FileMaker Pro network. Click here.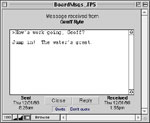 Web Viewer Example Authors:
Link to all of your own Web Viewer Examples on this site with the following URL:
http://www.briandunning.com/filemaker-web-viewer/results.php?author=Your Name Here