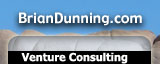 Shopping Cart
Contact


FileMaker is a registered trademark of FileMaker, Inc. in the U.S. and other countries.
Return to videos

Gunsight Mine; Gravitional Anomaly

This bizarre anomaly inside the Gunsight Mine outside Tecopa, California has not been explained. It is rumored to be the reason why the mine was abandoned. Also see these pictures from our trip.