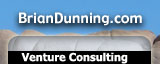 Shopping Cart
Contact


FileMaker is a registered trademark of FileMaker, Inc. in the U.S. and other countries.
Return to videos

Desert Flying Objects

I came across these strange flying objects in the Anza-Borrego desert on May 7, 2005. This is the movie mode in my digital camera, thus the poor quality. They flew around for about five minutes. Sometimes there was as many as eight or ten. I have no idea what they are - do you?