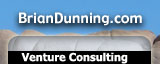 Shopping Cart
Contact


FileMaker is a registered trademark of FileMaker, Inc. in the U.S. and other countries.
Short Stories by Brian Dunning
Please enjoy these stories free of charge. Please note they are copyrighted and all rights are reserved (blah blah blah, yeah I wish someone wanted to steal them). Contact the author for more information.
Firetrap (1989)
On a planet where the very air you breathe is explosive, an outcast miner is faced with a violent death from the most unlikely of sources. PDF
Snapshots at a Requiem (1993)
An American hero in every sense of the word, and now just a photograph on a wall - and a voice from beyond. PDF
The Legend of Inwick (1989)
She was a lovely one, the flaxen haired beauty on her jet black steed - but was she alive? PDF
The Voyage of the Turtle (1994)
The sea cuts a fine line between life and death, madness and sanity, healing and barbarism. PDF
The Cincinnati Express (1986)
An 1850 Kentucky doctor finds the dark side of the slave undergrounds - and the most surprising truth of all. PDF
Tracks (1990)
A Canadian Mountie finds more than he bargained for when he tries to escape his past at the Northwest Territories' most remote posting. PDF