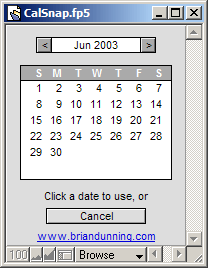 You know that cool pop-up calendar that FileMaker 8 has? Wouldn't you like to have that in FileMaker 5, 6, or 7? Now you can.
Free FileMaker Pro snap-in lets you grab dates from a nifty pop-up calendar!
Easily fill in any FileMaker date field by clicking it from a fast, easy, pop-up calendar.
Integrates with any FileMaker solution. Even a novice can do it! Only add one short script to your existing file.
Works with US and non-US date formats.
Multi-User so everyone in your office can grab dates at once.
For FileMaker Pro 5, 6 and 7.
Need a version that starts on Monday? Bjorn Sorensen offers these instructions to make the change to your unlocked version of Calendar Snap.
"Thanks a bunch! The boss thinks I'm a hero!"
- Kris Van Riper
"Calendar Snap is great, even I was able to apply it to a template in a few seconds."
- Marc Dubresson
"Nicely done!"
- Michael Grant
"I am totally blown away by your calendar file. Damn you are good! I can't imagine how you figured it all out."
- Greg Kuhn
"Sweet program, integrates very nicely with my database. Worth the 15 dollars."
- Francisco Romero
"I think your small calendar is beautifully done. I couldn't have made it!"
- Bjorn Sorensen