Track Swiss Post Freight shipments
Ralph Nusser, Sogetes Computer-Services
http://www.sogetes.com
Track Swiss Post freight with formatted parcel code
Description:
Let ([
a = "https://www.post.ch/de/index/uk-privatkunden/pm_versand_inland_pk/pm-briefe/pm-briefaufgabe/log_log_infolog_trackandtrace/pm_trackandtrace/pm_trackandtrace_search.htm?directSearch=false&VTI-GROUP=1&formattedParcelCodes=";
b = pTrackNumberFormatted
];
a & b
)


Note: these examples are not guaranteed or supported by BrianDunning.com. Please contact the individual developer with any questions or problems.
digg this page | del.icio.us this page
Newest Web Viewer Examples:

Instant Messaging for your FileMaker Pro network. Click here.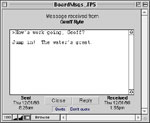 Web Viewer Example Authors:
Link to all of your own Web Viewer Examples on this site with the following URL:
http://www.briandunning.com/filemaker-web-viewer/results.php?author=Your Name Here