| | | |
| --- | --- | --- |
| | Reference: Windows Error 1014 | |
Definition of Error 1014: ERROR_REGISTRY_RECOVERED: One of the files in the registry database had to be recovered by use of a log or alternate copy. The recovery was successful.
SURVEY: Which web technology do you prefer?
Charts and graphs in your FileMaker 5/6/7/8 solution without a plug-in. Click here.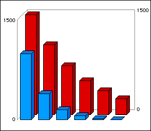 About this database
This is a free public resource. It is unmoderated and operates on the "public virtue" system. I hope you find it useful!