| | | |
| --- | --- | --- |
| | Reference: Windows Error 13857 | |
Definition of Error 13857: ERROR_IPSEC_IKE_GETSPIFAIL: Failed to obtain new SPI for the inbound SA from Ipsec driver. The most common cause for this is that the driver does not have the correct filter. Check your policy to verify the filters.
SURVEY: Which web technology do you prefer?
Free pop-up calendar for your FileMaker solution. Click here.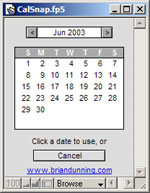 About this database
This is a free public resource. It is unmoderated and operates on the "public virtue" system. I hope you find it useful!