| | | |
| --- | --- | --- |
| | Reference: Windows Error 8582 | |
Definition of Error 8582: ERROR_DS_MODIFYDN_WRONG_GRANDPARENT: This object is not allowed to change its grandparent container. Moves are not forbidden on this object, but are restricted to sibling containers.
SURVEY: Which web technology do you prefer?
Find the closest locations by zip code using FileMaker. Click here.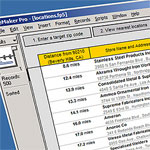 About this database
This is a free public resource. It is unmoderated and operates on the "public virtue" system. I hope you find it useful!