| | | |
| --- | --- | --- |
| | Reference: Windows Error 7053 | |
Definition of Error 7053: ERROR_CTX_CLIENT_LICENSE_NOT_SET: Your request to connect to this Terminal Server has been rejected. Your Terminal Server client license number has not been entered for this copy of the Terminal Server client. Please contact your system administrator.
SURVEY: Which web technology do you prefer?
Instant Messaging for your FileMaker Pro network. Click here.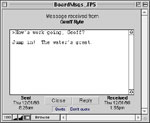 About this database
This is a free public resource. It is unmoderated and operates on the "public virtue" system. I hope you find it useful!