| | | |
| --- | --- | --- |
| | Reference: Windows Error 7024 | |
Definition of Error 7024: ERROR_CTX_WINSTATION_BUSY: The requested operation cannot be completed because the terminal connection is currently busy processing a connect, disconnect, reset, or delete operation.
SURVEY: Which web technology do you prefer?
Instant Messaging for your FileMaker Pro network. Click here.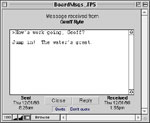 About this database
This is a free public resource. It is unmoderated and operates on the "public virtue" system. I hope you find it useful!