| | | |
| --- | --- | --- |
| | Reference: Windows Error 7012 | |
Definition of Error 7012: ERROR_CTX_MODEM_RESPONSE_TIMEOUT: The modem did not respond to the command sent to it. Verify that the modem is properly cabled and powered on.
SURVEY: Which web technology do you prefer?
Find the closest locations by zip code using FileMaker. Click here.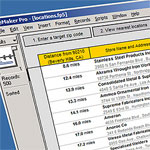 About this database
This is a free public resource. It is unmoderated and operates on the "public virtue" system. I hope you find it useful!