| | | |
| --- | --- | --- |
| | Reference: Windows Error 5082 | |
Definition of Error 5082: ERROR_CLUSTER_OWNER_NOT_IN_PREFLIST: You cannot bring the group online because the owner of the group is not in the preferred list for the group. To change the owner node for the group, move the group.
SURVEY: Which web technology do you prefer?
Easily encrypt sensitive data in your FileMaker solution without a plug-in. Click here.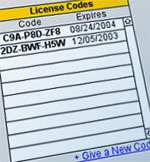 About this database
This is a free public resource. It is unmoderated and operates on the "public virtue" system. I hope you find it useful!