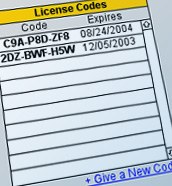 If you sell software and want to enforce whatever access privileges your customer has purchased, Easy Encryption is for you.
Easy Encryption is a collection of simple, stripped-down FileMaker Pro files and documentation that show you a way to use FileMaker's calculation functions to encrypt serial numbers, or other small codes. Not a plug-in, these are 100% pure FileMaker techniques that you can use freely in any database with no licensing fees.
Unlike most encryption plug-ins, Easy Encryption produces human readable alphanumeric strings that encrypt/decrypt the same on Mac and on Windows.
Includes a fully functional system for encoding data (like customer numbers, expiration dates, etc.) into unique serial numbers, which can then be provided or sold to customers, and decoded by their copy of your software to unlock functionality. (Please note that this is not an effective way to encrypt large blocks of text; it's optimized for serial numbers, credit card numbers, or similar short numeric codes.)
For FileMaker 5-11.
Will Loving of Dedication Technologies has posted a free script that can be used with Easy Encryption to generate random strings. Check it out here.
"Easy Encryption has been instrumental in guaranteeing we get paid for our work - no cheque no code - works a treat - many thanks."
- Victor Gentinetta
"Once we started using Easy Encryption our sales more than doubled, even though we had the same number of people downloading. Somehow people were stealing our product, and we never even knew it. Easy Encryption plugged those holes."
- Tony Hoshino